---
It's becoming more apparent by the month why Joe Biden and his regime continue to focus their ire and attention on Russia, with an economy about the size of Texas, instead of China, the true threat to the global democratic order.
It's because the Biden family is heavily invested in the ChiCom government — literally.
New emails obtained by Fox Business show that presidential son Hunter Biden once held shares in a Chinese company that has ties to senior ChiCom party officials, the network reported.
In addition to Hunter's investment, a former aide to President Biden also held shares in the same company.
"As recently as March 2017, Hunter Biden's private equity firm held a stake in a company run by a Chinese executive with ties to officials at some of the highest levels of the Communist Party of China," the network reported exclusively.
"Hunter Biden's longtime business partner, Eric Schwerin, sent him an email in March 2017 breaking down the ownership interests of Rosemont Seneca Advisors, which included a 5% stake in Harves Amusement Parks and ownership in Harves Sports and Entertainment," the network continued.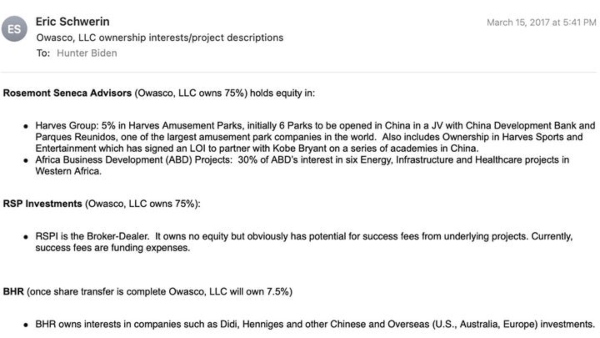 Hunter Biden's intro to the Harves Group actually took place roughly two years earlier when Frances Person, who was an adviser to then-Vice President Biden from 2009 to 2014 and had been a "special assistant" to Biden during his years in the Senate, emailed the presidential son in July 2015 inviting him to go to China the next month to meet Bo Zhang, his business partner, and Zhang's family.
"Bo Zhang and his family would host us. They are a great family with great respect and relationships in China. Bo graduated from American Univ and is in his late 20's, and his parents own Harves Century Group of Shenyang – which is a top tier private chinese real estate development firm," Person wrote. "His mom is actually the Chairman of the company, which is unique in China. They are very private, and wouldn't tell anyone about you coming. Bo's father-in-law is actually the Governor of Hainan (Chinese Hawaii), which he doesn't advertise at all."
Fox Business noted further that the Harves Century Group, headquartered in Shenyang, also has backing from the government-owned China Development Bank. The company is also parent to several U.S.-based Harves affiliates that includes Harves Investment Group (HIG), Harves Global Entertainment and Harves Sports. According to Harves Century's website, the CEO is Jenglan Shao who, according to Person's 2015 email, is Zhang's mother. It's not clear what her background is or if she's a U.S. citizen, but, Fox Business reported, her name appears on the Federal Election Commission website as a maxed-out donor to Person's failed bid to unseat then-Rep. Mick Mulvaney (R-S.C.). Zhang also maxed out donations to Person's campaign, while Schwerin and Hunter Biden each donated $2,700.
In her email, Person also said that Zhang is "being groomed to take over his family's dynasty" and that the trip to China was not supposed to be about selling Hunter on anything. Rather, it was more about "grow[ing] that relationship" and that "there will be plenty of big things that come down the road that we can work on."
Person also said that Harves was set to partner with NBA greats like Magic Johnson and LeBron James in 2016 to "host an NBA Global Game in China."
"It does not appear that Biden was able to make the China trip during the specific week that Person pitched in the email, but multiple emails reviewed by FOX Business show that Person and Zhang met with Biden and Schwerin in Washington on multiple occasions and emailed back-and-forth coordinating potential Harves-related business deals," the network reported.
The report added: "In one 2016 email, Biden calls Zhang his 'good friend and business colleague.'"
While the deep state attempted to portray Donald Trump as a corrupt leader, the fact is, he was squeaky clean. It's the Bidens who are in bed with an enemy.
Sources include:
Submit a correction >>